Every week, The Banner Years will look back at newsworthy events in the NFL and make picks against the spread for the week ahead. All odds are averaged from those found on ESPN.com.
By: Michael Conroy
There's no feeling quite like renewing an old addiction. From the moment your fingers begin to tingle and your eyes go wide, you know the pain that's waiting on the other side. But you still let it enfold you, because the high really is that good. It's the sweetest defeat you'll ever endure.
Maybe I take all of this too seriously, — correction: I definitely take this too seriously — but after indulging in the first NFL Sunday slate of 2015, I felt like I had overdosed. Leave it to the NFL to follow up a tumultuous off-season with one of the most thrilling weeks of action in recent memory.
Sunday, we learned…
---
The Patriots and Steelers Look Great in Hindsight
It's easy to forget that grand opening salvo between Pittsburgh and New England last Thursday night. The sensory overload that is NFL Redzone may have even pushed the seven-point Patriot victory back into a week of its own. Lost in all of the commotion and a city-wide search for Roger Goodell, however, was the fact that both teams looked comparatively razor sharp.
Tom Brady yada-yada'd a clinical dissection of yet another competent defense and the Pittsburgh Steelers showed their ability to trade punches on the road with the best the NFL has to offer. After a weekend bursting at the seams with procedural penalties, dropped passes and costly clock-management miscues, this game stands out as a probable January preview.
The Buffalo Bills Are Who We Thought They'd Be
That is, a pretty good football team. Sure, they may be deluding themselves thinking Tyrod Taylor can be a viable long-term starter, but if you can hold Andrew Luck scoreless for almost 40 minutes without Marcell Dareus in the lineup, you have a shot against anybody. We always knew that Rex Ryan would have that defense ready to play, but he will need much more from Shady Mccoy if the Bills are going to come out of the crowded AFC East. Either way, you won't find another defense that is this fun to watch.
Old Saint Nick Takes the Rams to Another Level
Nick Foles rose to prominence the same way most Quarterbacks do in Philadelphia, replacing the starter mid-season, making a statistically historic run to the playoffs and getting traded away to a flailing franchise. Usually, that narrative ends with a Kolb-esque fall from grace leaving everyone to wonder why any General Manager would trade for a backup Eagles signal-caller again. Against Seattle on Sunday, the narrative veered off-course. Nick Foles has officially gone rogue.
It would seem that Foles is content with the lack of weapons in St. Louis. Every time the Seahawks closed the gap on the Rams in the second half, the former future of the Philadelphia Eagles made a big play. Leading the Rams over the defending two-time NFC Champions isn't a bad way to start the season. It was the biggest win of the week.
Somebody Won the Giants-Cowboys Game
Manning vs. Romo is always just a little disorienting to Eagles fans. On one hand, Tom Coughlin is doing this:
But on the other hand, Tony Romo gets to do this:
Which means Dez Bryant does things like this: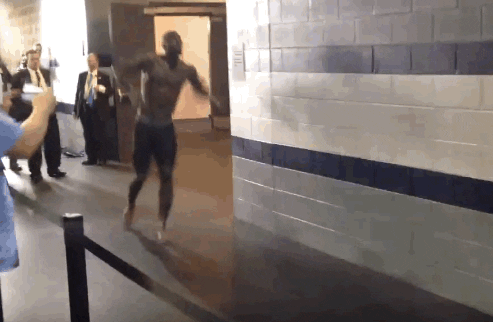 And Skip Bayless goes on national TV and does this: [inappropriate/sexual content removed]
It's a good thing Bryant won't be suiting up for the Cowboys this week, or their match-up with the Eagles' secondary could be a bloodbath. Rumor has it Byron Maxwell and Billy Davis are still down in Atlanta, struggling to locate Julio Jones.
Endings
---
It's difficult to declare any team's season over after just one week, but the Tampa Bay Buccaneers have a knack for making difficult things easy. Marcus Mariota was the latest beneficiary of Lovie Smith's stale defensive scheme, which yielded a 97.4 Rating to opposing Quarterbacks last season. Still, allowing Mariota to throw four touchdowns in one half was a new low for Lovie, whose best years are almost certainly behind him.
Jameis Winston struggled to keep up with the pace of the game despite making some beautiful throws when given a clean pocket. These two rookies might seem light-years apart right now, but it would be foolish to draw any conclusions from a game like that.
It's clear that the Buccaneers won't be making any noise in 2015, but Mike Evans, Jameis Winston and Doug Martin look like a strong young core. Going forward, the talent in Tampa can still take something valuable from the season. Their playoff hopes, however, are sunk.
Odds
---
Denver (+3) @ Kansas City
Peyton Manning looked positively human against the Baltimore Ravens in week 1. He's still Peyton Manning, though and it's been fourteen years since he's failed to win at least ten games in a season. Arm strength was never his greatest asset and the Kansas City Chiefs still can't push the ball downfield even with Jeremy Maclin in the lineup. Take Peyton getting points in almost any NFL stadium not called Gillette. Andy Reid's first-15 net the early lead, but the Broncos win 21-17.
Houston @ Carolina (-3)
The whole world keeps waiting for the Panthers to fold. Kelvin Benjamin is out for the season, Luke Kuechly sustained a concussion in Jacksonville on Sunday and Greg Olsen suddenly can't get open. So what? Carolina is well coached, aggressive on defense and have a seasoned play-maker at the Quarterback position. Cam Newton went on the road with no weapons, played a responsible game and came back with a win.
Meanwhile, Houston couldn't make it through 60 minutes of their season before moving on from an "ineffective" Brian Hoyer. Ryan Mallet with no running game won't scare the Panthers in their home opener even with Watt and Clowney wreaking havoc. This could get ugly, early. Carolina wins 31-10
San Francisco (+6) @ Pittsburgh
The second game of Monday night's double-header was a chore. Sure, it's easy to write off the result and say the Vikings just aren't as good as was presumed, but that's lazy storytelling. Minnesota has weapons and Teddy Bridgewater is coming into his own. The 49ers have simply gotten back to playing ugly, physical football. While that toughness may not result in a win on the road against the Steelers, it will definitely translate to a closer loss than most are anticipating. Steelers win, 20-17
New England (EVEN) @ Buffalo
What do Bill Belichick and Tom Brady do whenever a small spark threatens to grow into a vibrant flame? They stomp it out, smear it with dirt and spit on the embers. The tyrants have dominated the AFC East by smothering upstarts for more than a decade. Rex Ryan may be prepared for whatever the Patriots are going to throw at his Bills, but that doesn't mean he can stop it. The New England dynasty isn't ready to die just yet. They make a statement and rout the Bills, 29-6.
San Diego @ Cincinnati (-3.5)
The Bengals certainly aren't winning any cases in the court of public opinion this week. On the field, however, being a savage pays dividends. They pummeled the Raiders into submission from the opening whistle. It doesn't matter why Cincinnati played so angry in week 1. What matters is whether or not they can sustain that intensity. San Diego narrowly escaped a loss at the hands of the Lions thanks to late-game heroics from Phillip Rivers, but a similar slow start against a motivated Bengals team could spell disaster. Andy Dalton goes under-appreciated for another week, beating Phillip Rivers 27-20.
Atlanta @ NY Giants (-2)
Matt Ryan is really good. On Monday night, he reminded the football world of that fact. The New York Giants are still reeling after Eli Manning's game-breaking blunder against the Dallas Cowboys. None of that matters, though, because the NFL makes sense only about 50-percent of the time. The Falcons have never been the same team going on the road. Julio Jones might see triple coverage this week, as Steve Spagnuolo isn't too proud to make adjustments. The Giants will celebrate every single first down en route to a 27-17 victory.
Dallas (+5) @ Philadelphia
Philadelphia couldn't have been more confident heading into last week's game against Atlanta. John Gruden was frothing at the mouth. The stage was set for a Chip Kelly love-fest on ESPN. What Eagles fans received, instead, was a rude awakening. If a Super Bowl is this team's destination, they have a very long way to go.
Julio Jones will make any team's secondary look silly, so passing judgement on Byron Maxwell at this point might be a bit premature. What's really concerning for the Eagles is the play of the Offensive and Defensive lines. Scheme, fitness and culture can't save a team that's losing in the trenches. To make matters worse, the Falcons won that battle with arguably the least amount of talent that Philly will see all season.
In the win/loss column, it is technically just one game. Those who have followed the team long enough, however, know that the front-seven must drastically improve for the Eagles to meet their championship expectations this year. Or maybe it is just one game and we're all panicking over nothing.
It's way too early in the season for a "Dallas week," but the 'Boys are coming, ready or not. Dez Bryant's broken foot is Philadelphia's most valuable asset in this game, because the secondary needs more time to sort things out. If the heralded Eagles front-seven couldn't produce a consistent pass rush vs. the Falcons' weak O-line, it's hard to imagine them having better luck against the best in the business. Expect Billy Davis to bring blitz after blitz, in an effort to protect his vulnerable secondary. Those blitzes must get home early and often or Tony Romo will notch his second division win in as many weeks of this young season. The Eagles should win a tight one, 33-30.
Seattle (+3.5) at Green Bay
Doesn't it feel like the Packers have played the Seahawks a dozen times in the past three seasons? It's hard to think of another non-divisional rivalry that's amassed so much history in such a short amount of time. Aaron Rodgers is still the best player in the world, but he will miss Jordy Nelson more this week than he did against the Bears. The Seahawks won't start the season 0-2 in the NFC. Seattle wins another chippy prime time classic, 24-23
Other Picks
NY Jets @ Indianapolis (-7) / Baltimore (-6.5) @ Oakland / Miami @ Jacksonville (+6.5) / Tennessee (+1) @ Cleveland / Arizona (-2.5) @ Chicago / Detroit (+3) @ Minnesota / Tampa Bay @ New Orleans (-10) / St. Louis (-3.5) @ Washington 
Week two of the NFL season kicks off tonight at Arrowhead Stadium. Brace yourselves, more football is coming.